This vignette goes through all the functionality of the package. If you want to see examples with real data, you can refer to vignette('examples', 'ggHoriPlot').
Introduction
The data used through this vignette are tables with sine waves, which aims to mimic time-series data. The data looks like this: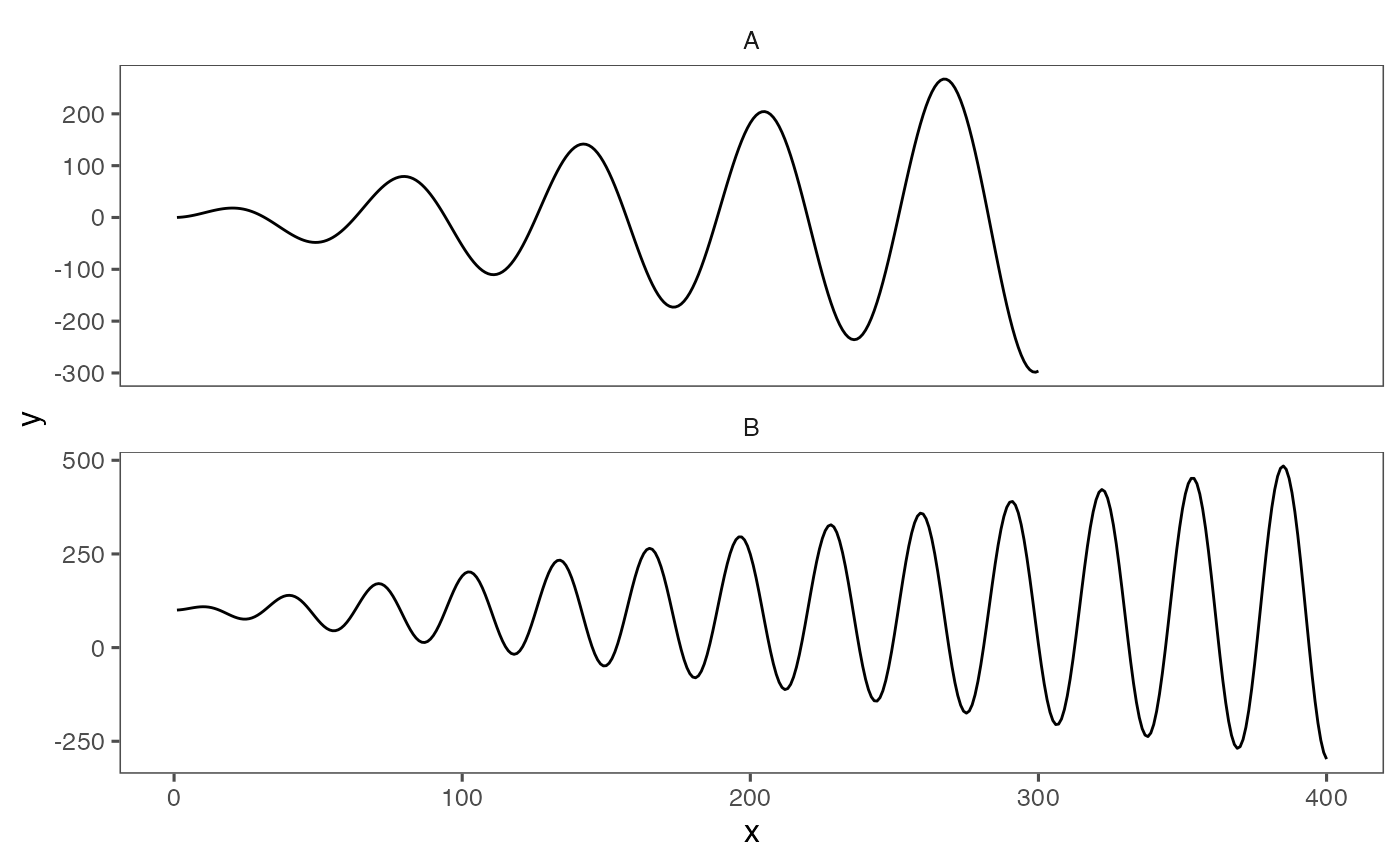 This representation of the dataset is fine if we only have a few waves. However, if we aim to represent and compare time series with many entries, it might be challenging to plot them as line charts. A more convenient way to plot this type of datasets are horizon plots, which are able to condense the data but still retain all the information. You can learn more about horizon plots here.
ggHoriPlot allows you to easily build horizon plots in ggplot2. First we will load the package and a helper functions that can be used to visualize and compare horizon plots and line charts.
We are now all set! By using geom_horizon() we can add a layer in the ggplot2 framework to build a horizon plot.

The default ggplot2 fill colors might not be the best choice of palette for horizon plots. Instead, we can use the scale_fill_hcl() function to choose an appropriate color scheme. The default palette will color low values red and large values blue.

To understand how horizon plots are related to line charts, we can plot both side by side.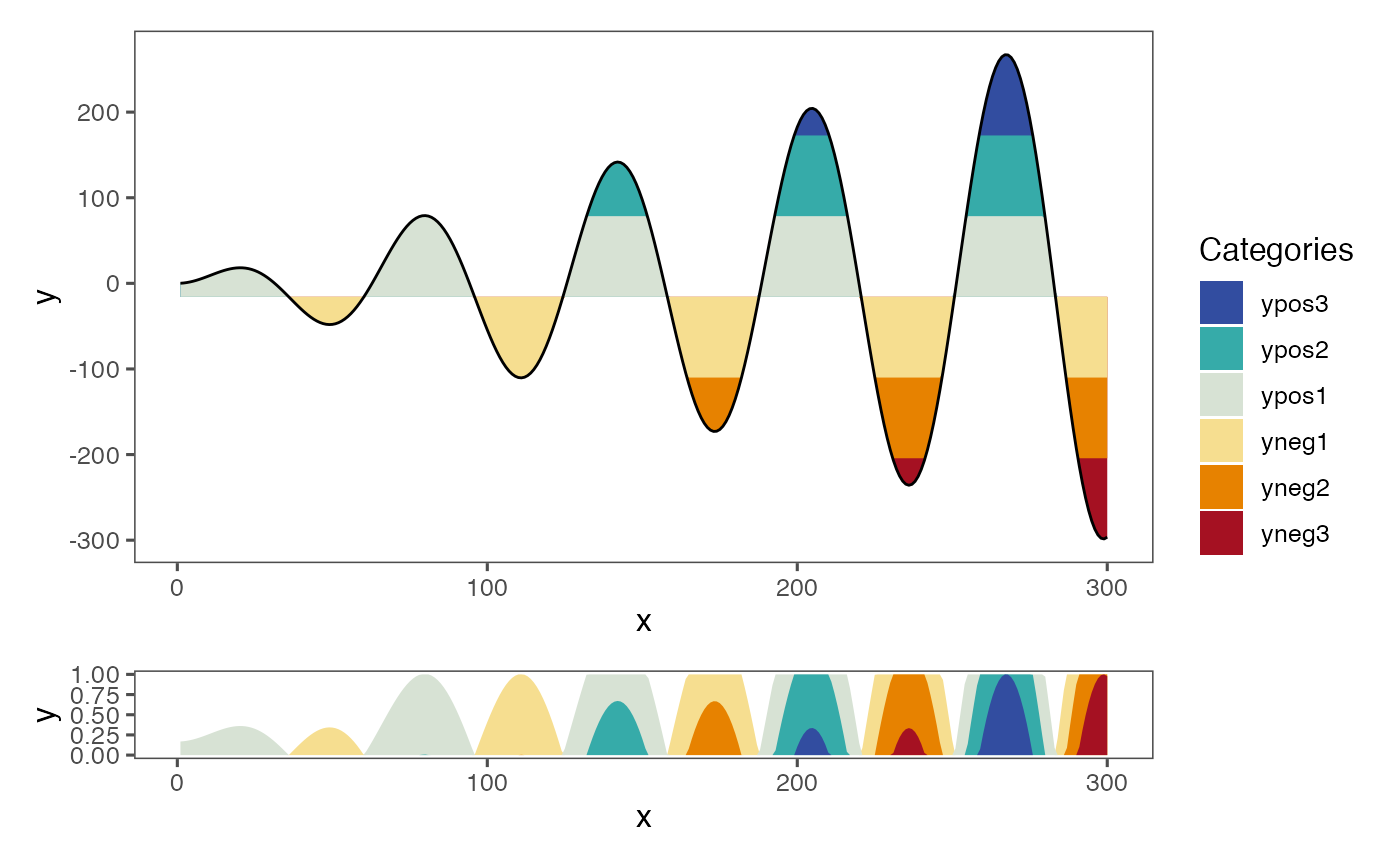 The resulting figure shows how the sine curve of this example can be condensed into a stripe instead of a full line chart.
ggHoriPlot can also output the exact intervals for each cutpoint by simply adding fill=..Cutpoints.. in the aesthetics: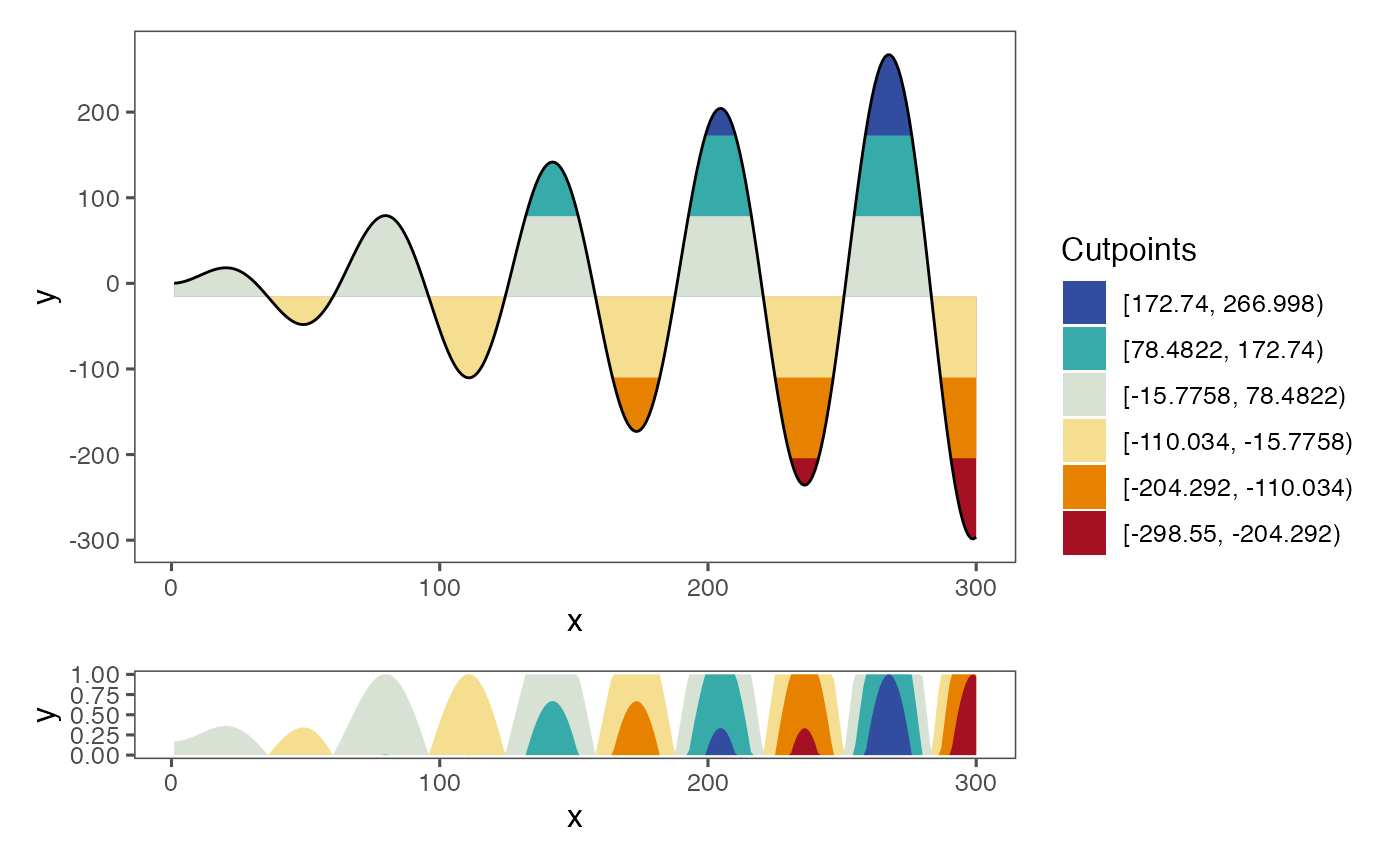 Changing the horizon scale
Apart from the origin, ggHoriPlot also allows to customize the horizon scale, this is, the number of cuts and where they happen. The default number of cuts is set to 6, as in all of the examples above, but it can be set to any other integer, such as 5 intervals:



a

 

<-

 

dat_tab

 

%>%

 
  

ggplot

(

)

 

+


  geom_horizon

(


    

aes

(

x 

=

 

x

, 
    

# xend = xend, 


    y

=

y

,
    fill

=

..Cutpoints..

)

, 
    horizonscale 

=

 

5

,
    origin 

=

 

'midpoint'


  

)

 

+


  theme_few

(

)

 

+


  scale_fill_hcl

(

)





cutpoints

  

<-

 

tibble

(


  cuts 

=

 c

(

97.33383

,  

210.44349

, 

-

128.88551

, 

-

241.99518

, 

-

355.10485

)

,
  names 

=

 c

(

'ypos1'

, 

'ypos2'

,  

'yneg1'

, 

'yneg2'

, 

'yneg3'

)

, 
  color 

=

 c

(

"#69BBAB"

, 

"#324DA0"

, 

"#FEFDBE"

, 

"#EB9C00"

, 

"#A51122"

)




)

 

%>%

 
  

mutate

(

names 

=

 factor

(

names

, rev

(

names

)

)

)

 

%>%

 
  

arrange

(

names

)






mid

 

<-

 sum

(

range

(

dat_tab

$

y

, na.rm 

=

 

T

)

)

/

2





b

 

<-

 

plotAllLayers

(

dat_tab

, 

mid

, 

cutpoints

$

cuts

, 

cutpoints

$

color

)





b

/

a

+

 plot_layout

(

guides 

=

 

'collect'

, heights 

=

 c

(

5

, 

1

)

)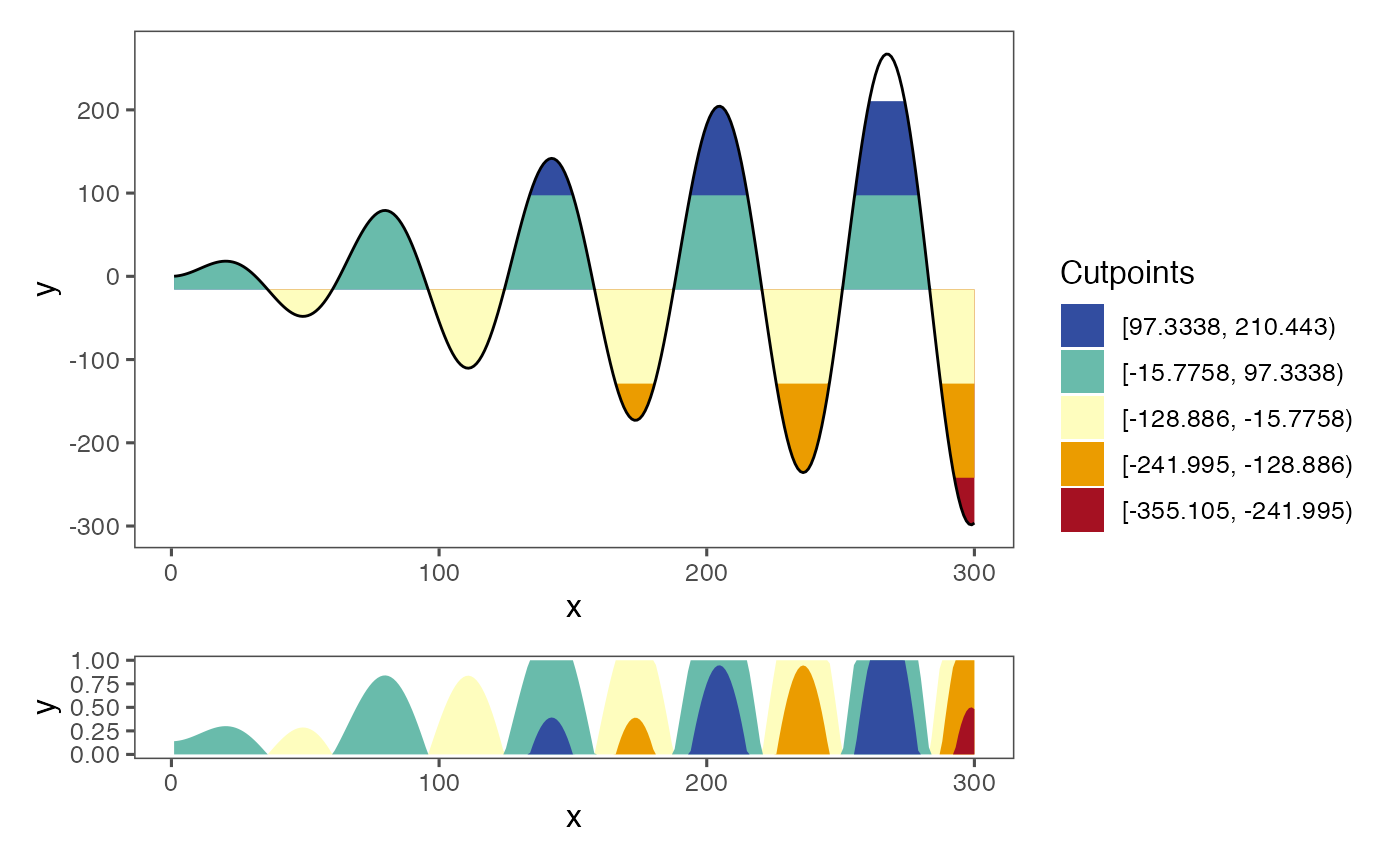 or 10 intervals instead:



a

 

<-

 

dat_tab

 

%>%

 
  

ggplot

(

)

 

+


  geom_horizon

(


    

aes

(

x 

=

 

x

, 
    

# xend = xend, 


    y

=

y

,
    fill

=

..Cutpoints..

)

, 
    horizonscale 

=

 

10

,
    origin 

=

 

'midpoint'


  

)

 

+


  theme_few

(

)

 

+


  scale_fill_hcl

(

)





cutpoints

  

<-

 

tibble

(


  cuts 

=

 c

(

40.77899

 ,  

97.33383

 , 

153.88866

,  

210.44349

 , 

266.99833

 ,
           

-

72.33068

, 

-

128.88551

, 

-

185.44035

, 

-

241.99518

, 

-

298.55001

)

,
  names 

=

 c

(

'ypos1'

, 

'ypos2'

, 

'ypos3'

, 

'ypos4'

, 

'ypos5'

, 

'yneg1'

, 

'yneg2'

, 

'yneg3'

, 

'yneg4'

, 

'yneg5'

)

, 
  color 

=

 c

(

"#E5F0D6"

, 

"#ACD2BB"

 ,

"#4EB2A9"

 ,

"#0088A7"

, 

"#324DA0"

,
                

"#FAEDA9"

,

"#F1C363"

,

"#E98E00"

, 

"#DC4A00"

, 

"#A51122"

)




)

 

%>%

 
  

mutate

(

names 

=

 factor

(

names

, rev

(

names

)

)

)

 

%>%

 
  

arrange

(

names

)





mid

 

<-

 sum

(

range

(

dat_tab

$

y

, na.rm 

=

 

T

)

)

/

2





b

 

<-

 

plotAllLayers

(

dat_tab

, 

mid

, 

cutpoints

$

cuts

, 

cutpoints

$

color

)






b

/

a

 

+

 plot_layout

(

guides 

=

 

'collect'

, heights 

=

 c

(

10

, 

1

)

)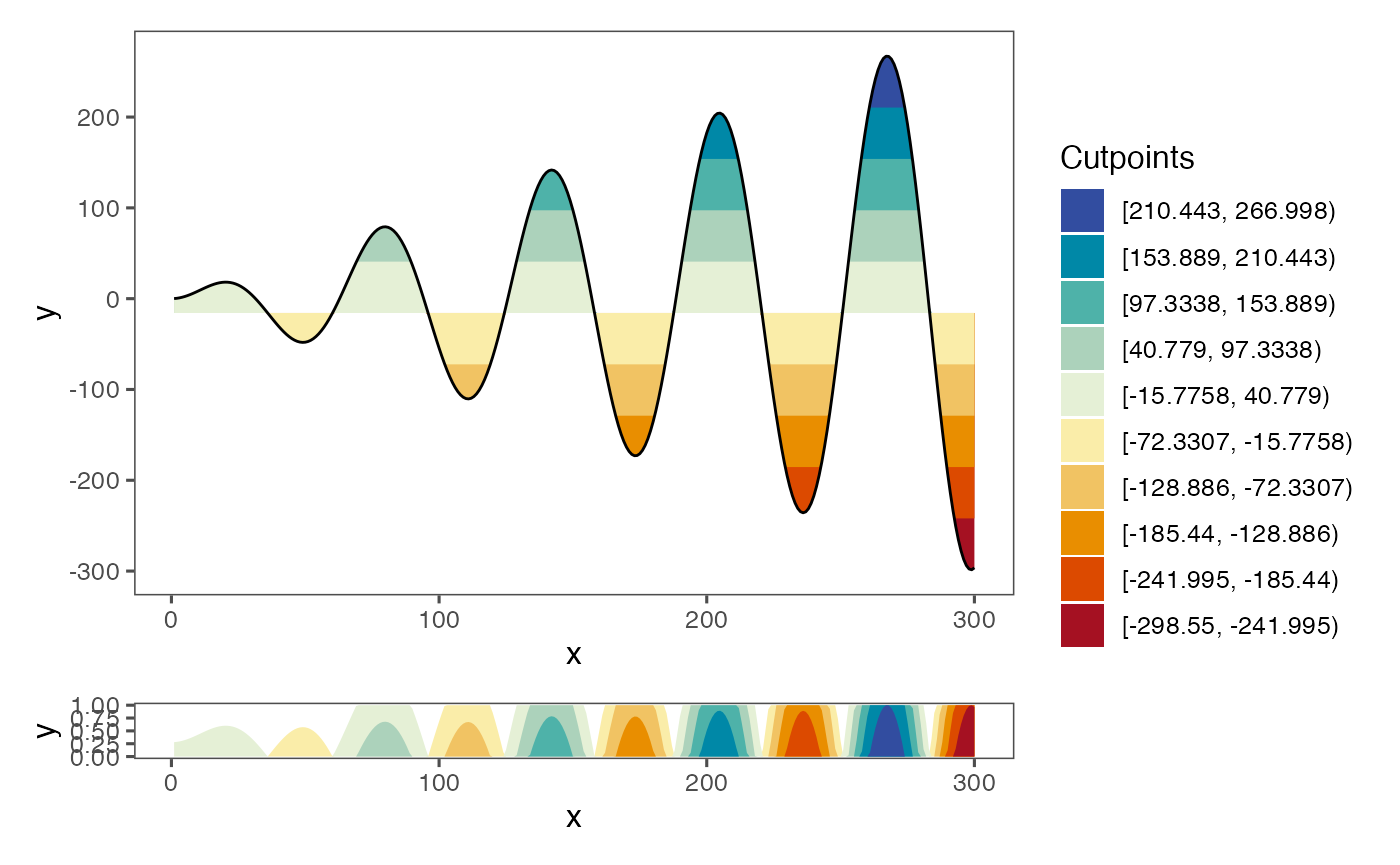 Finally, we can also specify our own intervals by providing a vector of cutpoints:



a

 

<-

 

dat_tab

 

%>%

 
  

ggplot

(

)

 

+


  geom_horizon

(


    

aes

(

x 

=

 

x

, 
    y

=

y

, 
    fill

=

..Cutpoints..

)

,
    horizonscale 

=

 c

(

78.48221

,  

172.74027

,  
                     

266.99833

, 

-

110.03390

, 
                     

-

204.29196

, 

-

298.55001

)

,
    origin 

=

 

-

15.77584


  

)

 

+


  theme_few

(

)

  

+


  scale_fill_hcl

(

)





cutpoints

  

<-

 

tibble

(


  cuts 

=

 c

(

78.48221

,  

172.74027

,  

266.99833

, 

-

110.03390

, 

-

204.29196

, 

-

298.55001

)

,
  names 

=

 c

(

'ypos1'

, 

'ypos2'

, 

'ypos3'

, 

'yneg1'

, 

'yneg2'

, 

'yneg3'

)

, 
  color 

=

 c

(

"#D7E2D4"

, 

"#36ABA9"

, 

"#324DA0"

, 

"#F6DE90"

, 

"#E78200"

, 

"#A51122"

)




)

 

%>%

 
  

mutate

(

names 

=

 factor

(

names

, rev

(

names

)

)

)

 

%>%

 
  

arrange

(

names

)






mid

 

<-

 sum

(

range

(

dat_tab

$

y

, na.rm 

=

 

T

)

)

/

2





b

 

<-

 

plotAllLayers

(

dat_tab

, 

mid

, 

cutpoints

$

cuts

, 

cutpoints

$

color

)





b

/

a

+

 plot_layout

(

guides 

=

 

'collect'

, heights 

=

 c

(

6

, 

1

)

)